IN THIS ISSUE:
- Summertime from Cape to Coast
- Luncheon Reservations/Sponsorship
- Opportunities/Membership
SUMMERTIME FROM CAPE TO COAST
The summer season is upon us and our area is buzzing! A record number of visitors are enjoying strolling Downtown Wilmington's Riverwalk, tours on the Cape Fear River, brewery tours, shopping and dining at chef-owned and operated restaurants while staying at numerous accommodations downtown. The nighttime vibe is enhanced by headline performers at the Live Oak Pavilion at Riverfront Park on select weekend as well as a number of venues offering live entertainment every weekend.
Wrightsville, Carolina and Kure Beaches continue to be favorite destinations for vacationers who plan their stay at rental properties, full-service hotels and Airbnb's. Each beach has its own special appeal: Wrightsville Beach is a mecca for anyone wanting to hone their water skills; they host a sailing school and a surfing camp and kayaking and paddleboarding rentals are available. For those simply wanting to enjoy a cruise, the Carolina Runner Catamaran departs from the Blockade Runner dock. Renovation work on the newly named Lumina on Wrightsville Beach, a Holiday Inn Resort, is complete. Nearby Wrightsville Beach Park features tennis, basketball and pickleball courts and a large playground.
Carolina Beach's vibe is centered around its Boardwalk which features amusement park-style rides, the Carolina Beach Arcade, and live music every Thursday evening that's capped with fireworks at 9pm. A popular beach for families, there's more than enough activities to keep children occupied from beach time to night time. Food offerings are plentiful and located in proximity to the beach and on the Boardwalk.
Kure Beach is known for its fishing pier, reportedly, it's the first built on the Atlantic Ocean in 1923. Located between Carolina Beach and the historic Fort Fisher State Recreation Area, Kure Beach borders Atlantic Ocean on the east and the Cape Fear on the west., making it ideal for any activities involving the water! It's proximity to the Aquarian at Fort Fisher also makes it an ideal family vacation spot.
August 17: Jennifer Ackerson, Alon Marketing, The Terraces on Sir Tyler
Jennifer Ackerson, Alon Marketing, is a 25-year award-winning veteran of the tourism industry. Her presentation will highlight the dynamics of tourism and visitor industry marketing.

She is contracted with NYC & Company (the DMO for NYCity) to explain the basics of tourism marketing to rotating groups of hospitality industry businesses. She has also presented at a number of CVB's and DMO's across the country as a representative of IITA (International Inbound Travel Association). Jennifer's accolades and awards include the 2020 WITTI "Outstanding Women in Tourism Marketing Award", the 2020 IITA Stanley Fisher "Outstanding Travel Professional Award" and the 2019 NYSTIA "Excellence in Leadership Award."
(THIS MEETING WILL BE SPONSORED BY HIGHLAND ROOFING).
October 19: SHRM -CP Board Panel Interview, Lumina on Wrightsville Beach, a Holiday Inn Resort
A repeat of a popular luncheon meeting in the past, this meeting will feature an overview of both general human resources issues and those that are most pertinent to the hospitality industry. The panel will include Cheryl Morlote, Kima Nixon, Nicole Patino and Marie MacDonald. We had seen and heard information at the CVB's May Tourism Week presentation, discussing the issues that affect employees in today's work environment and how critical it is that employers understand those issues. The presenters have asked that we provide questions in advance (in addition to the Q&A day of the luncheon.) Please email any topics or questions you would like discussed to: Joanie.desantis@aimhosp.com.
Save the Date: December 14, The Wilson Center will be the Flagship Sponsor for our Holiday Luncheon!
Thank you, ILM, our June Luncheon Sponsor
Thank you to Station 2, the lovely venue who donated their venue for our June luncheon and to ILM for sponsoring our luncheon. ILM's presentation reminded us just how important an asset our regional airport is to our growth as a visitor destination. -
ILM's route map is expanding--with new airline and additional flight options, more visitors than ever are arriving in Wilmington by plane. By ensuring there's a link to ILM on your website, potential visitors from all over will be able to easily check if there are flights from their destination. In the appropriate location, such as under your "how to get here" or "Transportation", please check to make sure ILM is listed on your website. If not, please add Wilmington International Airport (ILM) https://www.fly.com. Additionally, please make sure your front desk personnel and/or reservation system know about ILM so that they can, in turn, provide information to potential guests that may inquire.
Do you represent a hotel? ILM is currently creating a hotel webpage/section on their website. If you have a link to ILM on your hotel website, ILM will gladly add your hotel name and website link to their webpage as well. Simply send the webpage link (showing (LM listed) to Erin McNally emcnally@flyilm.com and ILM will follow up.
Speaker: Jennifer Ackerson, Alon Marketing


Location: The Terraces on Sir Tyler

SPONSORSHIP/VOLUNTEER OPPORTUNITIES
Several members (and non-members) have requested information with regard to sponsorship opportunities at our luncheon meetings.


We are pleased to offer this opportunity to any hospitality businesses or businesses that serve the hospitality industry.


We are also seeking volunteers to head committees, etc.:
WAHA is offering a ONE-TIME half-year membership:
for the balance of 2022 for $75!!
Luncheons are $25 for members; $35 for nonmembers.


Renew or join by check and/or print an invoice for payment.
Local
The Navigator Newsletter:
The CVB sends out a seasonal Newsletter, the Navigator to our industry; it is filled with updated information including CVB activities as well as current ROT reports. The newsletter only goes to the CVB's industry partners for which they have business email addresses, usually to the main contact. If there's been changes in your contact information or you are not receiving, please contact Karla Thompson


Highlights in the recent summer issue include information on the CVB's annual Program of Work presentation which will be held on September 13 from 8:30am to 11:30am at the Wilmington Convention Center
Also featured was information on New Hanover County 's ROT collections which remain up (March +14.83% and April +14%). Fiscal year-to-date (july 2021-April 2022 +33.76%)


Our area continues to become well known for its restaurants serving a selection of fresh fish and there was no better advertising for this than a recent YouTube video, "Soft Shell Burger & Oysters + BEST SHRIMP & GRFITS Seafood Paradise in North Carolina!! " An international food blogger, Mark Wiens who accompanied Chef Keith Rhodes as he visited his favorite locations to get fresh oysters, mussels and soft-shell crabs, raved about the food!


CNBC recently ranked North Carolina as the number one state for business in the US! Always among the "top ten", this newly acquired status will drive greater interest in Wilmington where the growing Fintech industry is exemplified by NCino's 830 employees. The visitor market grows exponentially with economic growth; family and friends of newly relocated employees come to visit and word of mouth grows with regard to our destination's appeal! Kudos to NC!!
National Overview
The

biggest news for national travel (from overseas) was the lifting of the pre-departure testing requirement for inbound air travelers.
This is expected to unleash the pent-up demand from overseas visitors. "A new analysis found that repealing the pre-departure testing requirement could bring an additional 5.4 million visitors to the US and an additional $9 billion in travel spending through the remainder of 2022. "*
"Leisure travel continues to be a high budget priority for American travelers. In June, 62% of travelers said leisure travel was a "high" or "extremely high" budgetary item. However, many travelers are holding off on making plans until the last minute. Amadeus reports that the majority of hotel bookings (55%) are still being made less than a week prior to travel." **
While

the

data

tracking

American travelers

'

sense of financial well-being is mixed, "Unfortunately, however, the proportion of travelers who reported that now is a good time to spend money on leisure travel has dropped significantly. In the first quarter of the year, 39.2% said they felt it was a good or very good time to spend on leisure travel. The figure dropped to 32.6% in the second quarter. Half
of American travelers (49.5%) say higher travel prices have kept them from traveling in the past month, jumping nearly 8 points in the last four weeks."***
American travelers are e showing an increased preference for visiting places they have never been to over places they've visited before (58.5% up from 53.5%)
More American travelers ae exhibiting an environmental consciousness. Now 56.1 % say they usually make an effort to limit their personal impact on the environment when traveling (Up from 53.5% in May)***
***Destination Analysts , July 5, 2022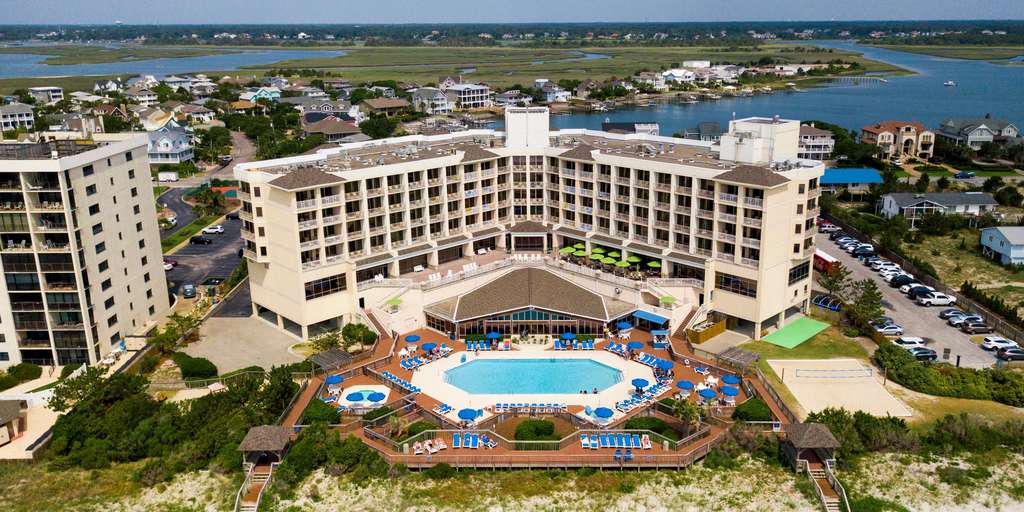 MEMBER SPOTLIGHT:

LUMINA ON WRIGHTSVILLE BEACH,
A HOLIDAY INN RESORT
The 18-month long renovation is complete! With a new name and a new look, Lumina on Wrightsville Beach, A Holiday Inn Resort also features Solstice Oceanfront Kitchen & Cocktails. The new name is taken from the historic oceanfront Lumina Pavilion built in 1905. Both the Surfside Beach Bar & Grille featuring "tropical libations and bar bites" and the Longboard Coffee + Market are located inside the hotel.
Lumina on Wrightsville Beach, A Holiday Inn Resort will be the Flagship Sponsor for WAHA's October 19 luncheon.